---
Dear lessthanten reader, we have now made our blog iPhone compatible.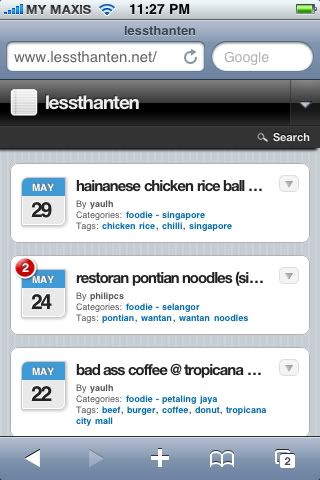 You can touch the top right down arrow to show more options. Such as go back to home page, RSS feed, email.
You can also borrow www.lessthanten.net by categories.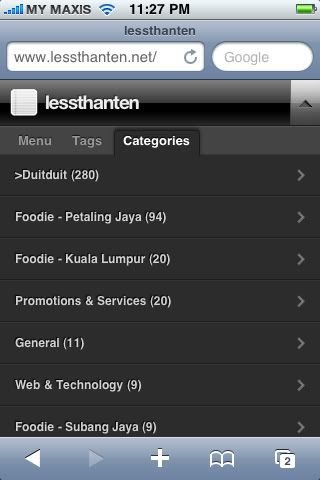 Enjoy
---
---
I am not sure how many of you surfing china website like those discuss forum. I do a lot because i need to get the BT seed for the drama series. HKPlaza, the forum i always visit but sometime the connect very very slow. After long troubleshooting and observation, I found out the problem is from Streamyx. When I feel slow to the site, i check the IP i got from Streamyx and the IP i got always start from 112. or 128. Then I disconnect and reconnect again until I got the IP start with 115. then the connection speed to HKPlaza or other china website become very fast and smooth.
If you also having the same problem, you can try this trick and hope this works for you as well
---
---
We went to Starbucks today while waiting for car service. The wifi at Starbucks so slow until my home Streamyx fast than their wifi anytime. However, we are lucky enough because we got the Streamyx Hotspot wifi signal nearby (dont know from which restaurant). Since we only have 1 hotspot account, I have to use my iPhone to do the tethering via 3G.
---