---
Having self prepared steamboat at home. A lot of vegetables, mushroom, some seafoods and Yong Tao Fu.
---
---
Ever wonder what to do with the leftover mandarin oranges from CNY? Last weekend while we're lazying at home, PP mixed a special salad for us to try with. Its a mixture of ceasar salad vegies with mandarin oranges and grapes. It tastes very nice, there's sweet and sour taste in it.
What you need is very simple:
a pack of ceasar salad vegies
one mandarin orange
about 10 – 15 grapes
topvalue sesame dressing
With your mandarin orange, you will need to cut them into halves and remove the seeds, if there's any. Same goes for the grapes too. All you need to do is mix all the vegie, mandarin oranges and grapes with the sesame dressing. There.. enjoy your salad!
---
---
Notice that I've been posting again? Hehehe.. I feel real bad … PP's been very hardworking and helping me do post for the past very very busy months. Thanks, gong ! So… I'm still busy, but I will make some time for this blog.
This time round, I'm gonna help PP introduce his braised bittergourd with pork ribs. Here's the recipe and some simple steps to prepare the dish.
Braised Bittergourd with Pork Ribs by philipcs
Ingredients :
2 pcs bittergourd (medium size)
pork ribs
spicy fermented beans (can use the non spicy ones for those who wants it mild)
sugar and salt to taste
cooking oil
Directions :
Heat up the pan with a little bit of cooking oil, then add in the fermented beans to fry.

Next, you will need to add in the pork ribs and some water into the pan with fermented beans. Fry the pork ribs for about half an hour.  Add in more water after that, you will need to braise it with the bittergourd later on.

In another pot, boil water with a dash of oil and salt in it. Add in the bittergourd which is cut into cubes to the boiling water.  Boil for about 15 minutes and let the water rinse away.

Finally, add the bittergourd to the pan of pork ribs and fry until it becomes medium dry. Add more water to braise it for another half an hour and you ready to serve it.
Thanks to PP for this delicious meal.
This is just nice for our lunch and dinner. You can serve it with rice or even noodles.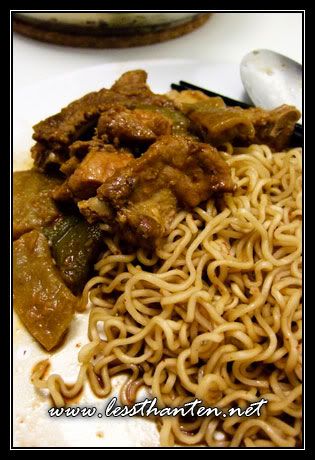 ---