---
The RT Pastry is located at SS15, Subang Jaya. This shop is not noticable at all, because it looks like any ordinary hometown bakery shop. Surprisingly, it is actually a Japanese bakery shop. The breads in this shop are all very fancy.
PP's colleague also recommended him a type of bread from here. Its a multi-grain bread, very compact with nuts and grains and also raisin. He asked a colleague to buy and brought it back for me to try out. It is very nice and filling.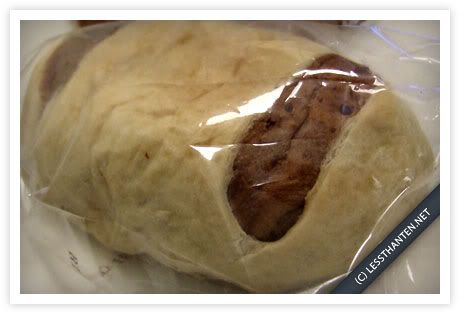 I went there again today, wanted to find a japanese bread that PP's colleague from Singapore gave him. The bread that his colleague gave was a chocolate layered bread, rolled up in a croissant shape. The bread is so soft and rich in chocolate flavor. I'm so addicted to it! Hence, I was hoping to find the same thing at this Japanese bakery shop too. At last, found it, but this shop's version is not as good. I suppose this is not their specialty.
Also, we've bought a slice of their their orange layered cake, yam tart and the multi-grain bread again. And so it happen, this is their anniversary day. We've got a 28% discount from the total ammount of purchase. I'm very curious at their soft japanese cheese cake. I think I'll get a slice of it the next time and review on it.
food: multi-grain bread – RM5, chocolate layered bread – RM3, orange layered cake – RM4, yam tart – RM2.80
rt pastry (subang jaya)
location: next to cake sense, ss15, subang jaya
contact: +603 5621 6758
rt pastry (taman danau desa)
contact: +603 7981 9106
---
---
On our way back from JB to KL last Sunday, we were thinking what to eat for dinner. Since we will pass by Subang Jaya SS15, we decide to try out K3K which we have passed by numerous times and never give it a try.
Here's some history about K3K Benta Kaya – an Authentic Experience. After 50′s years of history at Benta, Kuala Lipis, Pahang. Today K3K (Kwai Sam Kee) move forward by setting up branches in the urban area. Kwai Sam Kee's third generation has churned out numerous delicacies beside serving their villagers with their heirloom of cultured kaya and toast bread, aromatic coffee and tea.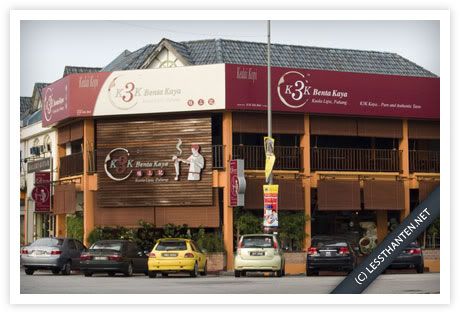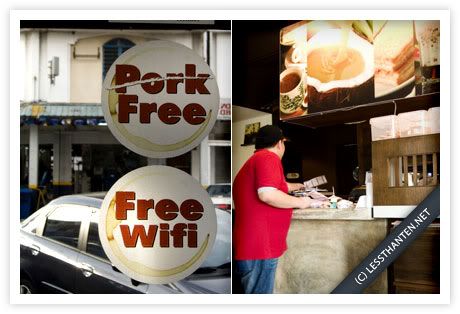 Although moving into the city, the concept of K3K continue to those day back in the 60′s and 70′s where you can feel the authentic New Village kopitiam environment and culture once you step into the shop. From its interior design and wooden furniture until to its kaya buttered steam or toasted bread with a cupper of coffee or tea bring back the good old days of our local original kopitiam back to life again.
K3K offers Free Wifi internet access, no wonder there were many students there with laptops.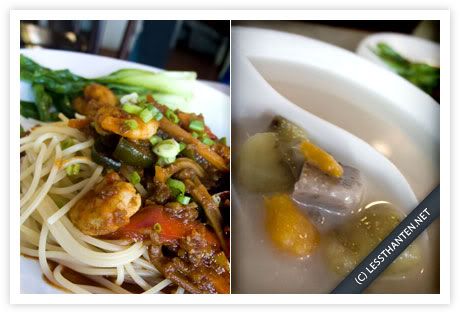 We have ordered K3K's signature dish, K3K Spaghetti, Toast Bread, Dumpling (Chang) with gula melaka and Ice Lemon Tea. As for desert, We have ordered Bubur Cha Cha.
Their K3k Spaghetti is a combination of italy spaghetti and chinese secret spicy chilli paste. Accompany with slices of trio peppers, carrot, onion, cuttlefish, prawn and spinach. The taste is good but the combination of spaghetti with the spicy souce a bit special. However we are quite like it.
As for the dumpling (Chang), perfect match with their famous kaya. You can also ask for gula melaka as well. The dumpling is nice too and not too big portion. Perfect for side dish. However their Bubur Cha Cha is not so good. The sweet potota is not well cook and the soup too sweet. So we are not recommanding this dessert.
Restaurant K3K Kopitiam
Address: A13, Jalan SS15/4D, Subang Jaya
Price: K3K Spaghetti – RM7.80 / Toasted Bread – RM1.80 / Dumpling (Chang) – RM3.30 / Bubur Cha Cha – RM3.50 / Ice Lemon Tea – RM2.50
---
---
This is one of our favourite spot during the old college times and also during those days when we're still staying at sunway. The patrons here are usually college students from Taylors or INTI. This restaurant is located at the row of shophouses opposite Taylor's College. Its right next to 7-Eleven.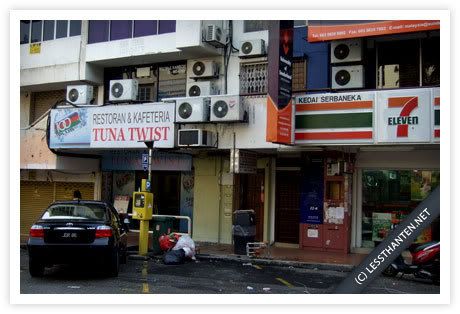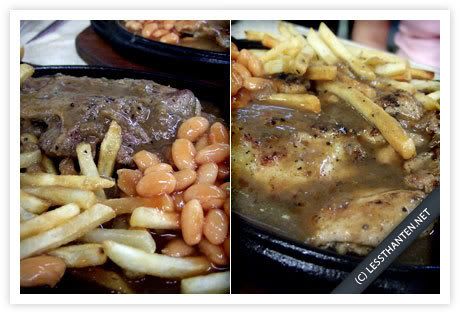 They serves all types of food, ranging from western such as chicken / lamb chop to local deli such as nasi lemak, fried rice and etc. They also have those convenient packed sandwiches for those small eaters.Our favourite from this shop is their western sizzling chop.
PP ordered a Sizzling Lamb Chop while I ordered a Sizzling Chicken Chop. Both our dishes comes with a soft bun, french fries and baked beans. Food portion wise is huge and worth it. Come on over to try it out.
Tuna Twist Subang Jaya
Location: Opposite Subang Jaya Taylor's College, next to 7-Eleven
Food: Sizzling Lamb Chop – RM9.50 (free cordial drink), Sizzling Chicken Chop – RM8.50 (free cordial drink)
---