---
Chicken rice is one of our favorite food selection. Knowing this, my bro introduced us to his favorite chicken rice shop in Singapore. This shop is located at jalan besar, opposite Sim Lim Tower and nearby Sim Lim Square. This chicken rice is real good. It can't even be compared to the one from Muar or even Malacca.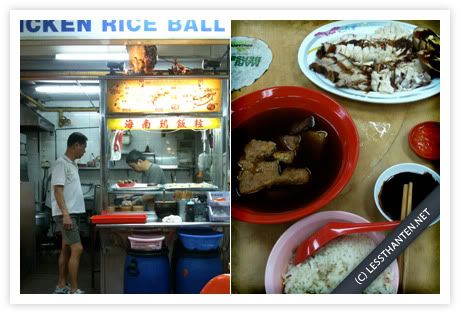 What makes this shop so special. First, their chicken rice is served with a bowl of black herbal soup. Hmm.. something which you could not find elsewhere. Secondly, a good chilli makes a chicken rice tastes better. This shop's chilli can in fact make you black out. Even PP likes this. Their version of chilli is super spicy and without garlic. Taking too much of this would eventually swell your lips into sausages.
We usually orders at least two huge chicken rice balls to start with, accompanied with steam chicken and slices of pork meat. Their steam chicken is so juicy, thin and tender. Even though it is chicken breast, you would not find big chunks of dry chicken breast meat. This is usually served with a drizzle of dark soy sauce.
This is a must eat place when you're in Singapore. Head over there and try it out. This is especially to those living in KL which have not tried chicken rice balls that's in a size of a baseball.
hainanese chicken rice ball @ jalan besar
location: jalan besar, singapore
food: steam chicken, rice/rice ball, herbal soup – SGD9.00
---