---
Penang Recipe located at 1Utama serves one of the best Penang food in the shopping mall. This restaurant is located at the old wing, at the corner of 3rd floor where the old and new wing is connected. Its located in a open area, with very green decoration which won't impress you much. You'll be surprised, really, with the food they serve and the price you pay with.
For the first time trying out at this restaurant, PP and I have decided to order our 'safe dish'. Defining 'safe dish'; hmm.. its the general type of meal that we will order that helps us set the standard of a restaurant. Well for example, if we're at a chinese restaurant, our safe dish would be their sweet and sour pork and a vegetable. If at a Penang restaurant, safe dishes will be Char Kuey Teow, Curry Noodle and Assam Laksa.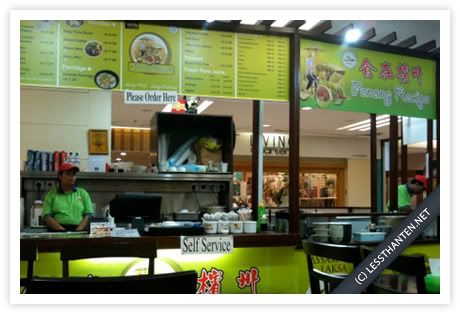 So, we had a bowl of curry noodle and assam laksa. Their version of asam laksa tastes very similar to the one at Jusco Mid Valley. Its sourish and you'll need more than a saucer of the black prawn paste to make it slightly sweeter. The assam soup however is very thick and strong with flavor. This bowl of assam laksa also have loads of fish meat in it.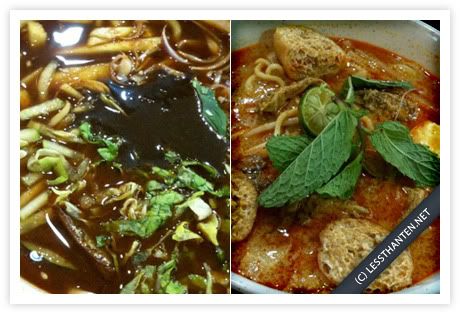 As per the curry noodles, it comes with dry bean curd, chunks of chicken meat, slices of fish paste and mint leaves. This is not the usual penang curry noodle. I would say that it resembles more like a Nyonya style. Both type suits us well. Needless to say, they're not stingy at all with the ingredients for this bowl of noodle. Taste wise, the gravy is thick and rich in curry flavor.
penang recipe @ 1Utama
location: F66, 1st Floor, 1Utama
contact: 016 – 217 7496
business hour: opens daily from 10.00am – 10.30pm
food: curry noodles – RM7.90, assam laksa – RM6.90
---
---
It's been very long since our last post again. Piccadilly is a restaurant located at the ground floor of Millennium Square. This is the most strategic place, I can say. Its a condo, located right next to the LRT, there's convenience shop nearby and has a restaurant that serves great food. Especially Thai food. What else do you need?
Piccadilly serves more than 100 varieties of food. Out of these, we will introduce our all time favorite food from Piccadilly, their Nasi Goreng Pattaya and Tom Yam soup. Their plate of nasi goreng pattaya is as huge as the plate itself. Bear in mind that this portion is only for 1 pax. I bet a lot of students must be staying around here. Only they can afford to eat that much.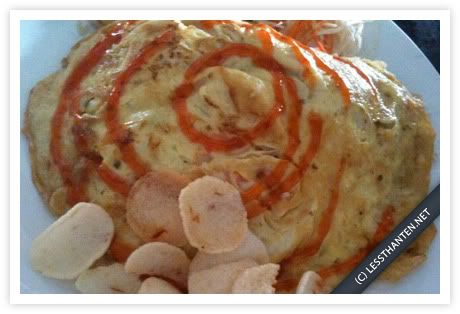 The plate of pattaya fried rice comes with squid, prawn and slices of fish cake. The egg that's wrapping the rice is thick and juicy. They must have used close to 3 or 4 eggs for this. This plate of rice is just nice for the two of us to share with. Its rice is not too hard, has a very nice fragrant and most importantly not overly oily unlike other fried rice.
Whenever we order this rice to share, we would also order a tom yam soup to serve with the rice. Their tom yam soup tastes original. Its definitely not those tom yam cooked with instant flavoring. Even the tom yam soup itself comes in several types. They have it with coconut milk, green or red curry, and also the clear soup.
If you feel that the soup is not enough, you can also request to add noodles and turn this into a bowl of main dish. We've brought different colleagues here for lunch several times and all of them actually liked this place and wants to bring their partner here to try again. This is one good choice if you're not sure what you want to eat. That's because with more than 100 varieties of food, you'll sure find something that you want to eat.
click here for more food from piccadilly
Piccadilly Restaurant
food: Nasi Pattaya – RM5.90
location: LG006 & LG007, Millennium Square, Dataran Millennium PJ, 98, Jalan 14/1, 46100 Petaling Jaya
---
---
PP reminded me of my blogging duty once again. Owing to the guilt for being so lazy, I'll post his favorite breakfast porridge at damansara utama. This shop don't only serve very nice porridge, they serve good coffee too. Another tidbit being served that you can eat together with your coffee is their fried yu tiao and ham chin peng. The ham chin peng has sweet smooth red bean filling.
Hon Kee had established their name for three generations starting from their late grandfather Wong Yu Wah, who managed a congee stall approximately 60 years ago in Petaling Street. It's their vision to allow each patrons to experience the authenticity of their family's recipes. The unadulterated original taste was what we were looking forward to everytime we visit a restaurant with so much deep-rooted profile.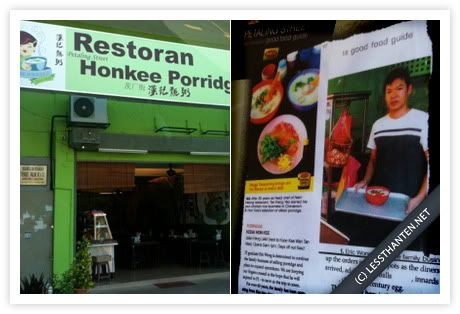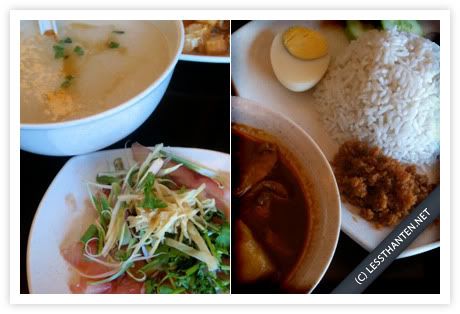 This shop is very famous for their raw fish porridge. It is also one of hub's favorite porridge. It is served with thin slices of fresh fish meat slightly coated with sesame oil, and topped with small strips of ginger. Mix the slices of fish meat in to the porridge and you'll see it cooked immediately. They have a few more varieties of porridge such as the pix intestines, minced meat with salted egg, century egg, hong kong style porridge and many more.
As for me, I am not a big fan of gooey porridge. I favor more on the teo chew type where you can still see all the rice grains. So my favorite from this shop is their nasi lemak. They serve their nasi lemak with pork curry. You might not be able to get pork curry at anywhere except for the SS2′s pasar pagi. Nasi lemak tastes only moderate. Rice is not fragrant enough and there isn't any sambal ikan bilis to eat with. You can definitely get better nasi lemak elsewhere.
HonKee Porridge Since 1949@ Damansara Utama
location: No 71, Jalan SS21/1A, Damansara Utama, 47400 Petaling Jaya.
food: raw fish porridge RM5.50, nasi lemak with pork curry – RM5.50, you tiao – RM1.00, ham chim peng – RM1.00, coffee – RM2.30
business hours: daily, 7am – 10pm
contact: +6019 982 4328
facebook fans page: http://www.facebook.com/pages/Petaling-Jaya-Malaysia/Honkee-Porridge-Restaurant/162314091792
---