---
Mukhtar, the owner of the Breakfast Bar, is known by everyone all round Cenang. He is a great person and not at all untypical of restaurant owners in Langkawi. They don't just own the business and handle the profits but are actively involved in the day-to-day running of the place and take time to sit with and talk to the customers. Also, he is a teh tarik master. You must taste his teh tarik.. hmmmm.
Breakfast Bar is a cheap-and-delicious breakfast bar in Pantai Cenang. A must-go! Its one of our favourite breakfast place at Langkawi. This great eating place is nicely decorated with a tropical garden setting. You will love the gazebo-like structure and the green surrounding. It has beautiful ocean views too. The specialties are Western and Malaysian breakfasts. Ooh.. you can get some yummy and fresh baguettes here too.
Our american breakfast set comes with 2 slices of toast bread with butter and jam, scrambled egg, and coffee. Mukhtar's special omelette comes with mushroom, onion, turkey ham, tomato and potato. We've also ordered extra 2 slices of toasts with butter and jam and a banana pancake. Breakfast Bar is a decent eatery with great choices and most importantly, affordable.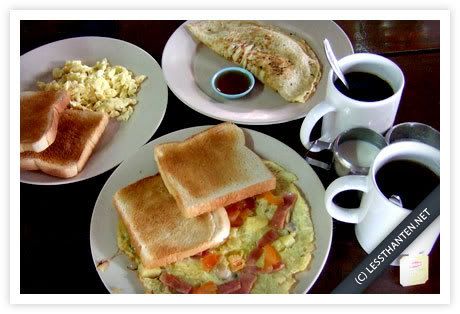 Breakfast Bar
Location: Pantai Cenang, Langkawi
Contact: +604 955 6533
Business Hours: 7am to 2.30pm
Food: american breakfast set – RM6.50, mukhtar's special omelette – RM6.50, 2 toasts with butter and jam – RM2.50, banana pancake with butter and syrup – RM3.00
---
---
Malay food is the other thing that you must try when you're at Langkawi. PP and I loves to eat ikan bakar and kerang bakar. Restoran Hj. Ramli is one of the malay stalls that we've tried out when we're there.
Formerly located near the intersection of Jalan Pantai Cenang and Pantai Tengah, this restaurant is now situated smack in the centre of busy Pantai Cenang. Bigger this time around, Restoran Hj. Ramli specialises in southern Thai Malay seafood as well as Malaysian favourites — so Thai that most of the staff communicate in Thai. They still get by with English, though.
We've ordered two of the "hairtail scad" fish (cencaru), one cooked with sambal and another one BBQ. Also, we've ordered BBQ cockles (kerang bakar), kampung fried rice and some drinks. You must try the BBQ fish (ikan bakar) or ask for their recommendations.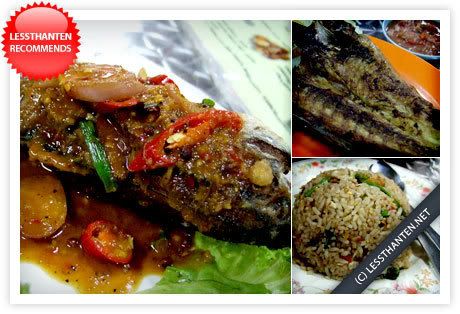 This restaurant is popular with Malay tourists but that does not mean others are not welcome. Beers and spirits not allowed to be consumed on the premises. For the quality of food, the prices are very reasonable.
Restoran Haji Ramli
Location: Pantai Chenang (near Casa del Mar), Mukim Kedawang, 07000 Langkawi,
Contact: +604 955 4128
Business Hours: 12pm to 3pm, 6pm to 12am
Food: Hairtail Scad fish (cencaru) – RM2.50 / 100gm, BBQ cockles – RM1.00 / 100gm, kampung fried rice – RM4.00, Ice Lemon Tea – RM1.50
---
---
The restaurant is a corner 2-storey shophouse on the main road from Kuah town to the airport, about 2km from the Jetty. It is non air-conditioned but the dining area is cool and the ambience good. Opens for lunch from noon to 3pm and dinner from 6pm to midnight.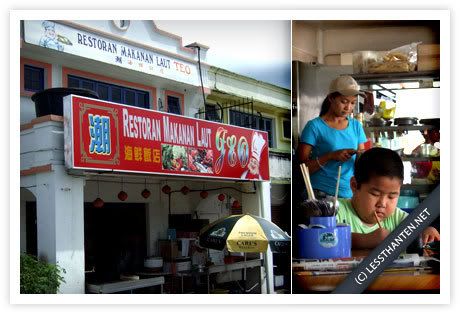 The restaurant draws the local crowd with its homestyle cooking. Its signature dish is ginger duck, braised in ginger and soy sauce was simply outstanding and unforgettable. Other dishes include many types of fresh seafood.
Its a must for us to visit this restaurant whenever we're at Langkawi. After renting our car at the Langkawi airport, PP suggested having lunch at this restaurant. He's craving for his favourite sweet and sour pork dish. The sweet and sour pork is the crunchy type, I think that's why it it so nice. A must try if you're dining at this restaurant. Apart from that, we've also ordered a cantonese style fried kuey teow, vegie and salad "you tiao" (one of their signature dish too).
Restoran Makanan Laut Teo
Phone: +604 966 5520
Address: 30 Pusat Dagangan Kelana Mas, Kuah
Business Hours : noon to 3pm, 6pm to midnight
Directions: From Kuah town, drive straight in the direction of the airport at Padang Matsirat. The restaurant is about 2km from the jetty on the left side of the road, facing a row of (new)shophouses (on the right side of the road).
Food: Cantonese Fried Kuey Teow – RM4.00, Sweet & sour pork – RM8.00, Vegetable – RM4.00, Salad "You Tiao" – RM4.00
---