---
Its raining cats and dogs outside. Hub's mood is not good either. With nothing much that I can do.. hehe better contribute some effort to our blog here.
Yut Kee is a very old restaurant located at Dang Wangi area. It is so famous that almost everyone working or living at KL or PJ area knows about this place. Unfortunately for us, the two hermits at home, we only got to know about it from our colleagues whom have been there for endless times.
Yut Kee serves their very famous "roti babi". Its not a very good name to start with, but this piece of thing tastes seriously good. This dish is a serving of minced meat, crab meat and onion wrapped in two slices of bread which is fried like a french toast. One weird thing that we've noticed is that some patrons in this shop actually dipped their roti babi with the worcestershire sauce. We've tried doing the same, but did not like the taste of it.
Another well known dish from this coffee shop is their Hainanese Pork Chop. So far, our favorite hainanese chop is the one from Kluang Station. The version that they have over here is slightly different. The verdict after we've taken our first bite at the pork chop is.. well, it feels soggy but rich with flavor. The gravy is more on a watery side. This dish is accompanied with chunks of onion and wedges.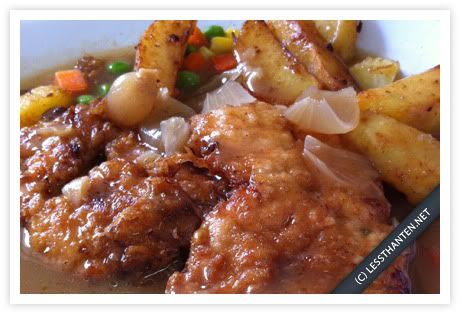 Our 'little' stomach can only take in this limited amount of food. We'll definitely come here and try some other dishes and blog about it. Next time, I'll be sure to buy a few pieces of their marble butter cake.
yut kee @ dang wangi
location: 35, Jalan Dang Wangi, 50100 Kuala Lumpur
contact: +603 – 2298 8108
business hour: open daily, except for Monday
food: roti babi – RM7.00, hainanese pork chop – RM7.00
---
---
I would say that most of the Friday's lunch is a fish head noodle meal. We've tried those at Damansara Kim, at Kuchai Lama and even Jalan Ipoh. Our favorite so far is the one at Kuchai Lama. I will introduce it in one of the future posts.
Distance from office to all these eatery places are about the same. Jalan Ipoh is a very busy street, especially during lunch time. Traffic is havoc. This fish head noodle place is located at a certain corner of Jalan Ipoh, which I do not know how to describe. What's most distinguish is that, a chinese temple is located opposite this stall. Behind this stall, there's a classic chinese garden decorated with a pavillion.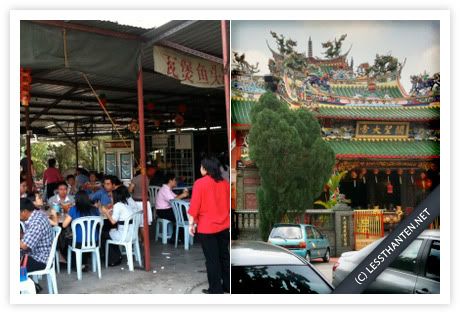 Its like back to the very olden days, something like "Journey To the West" kind of scenery. I suppose what's missing is the monkey, pig & monk. Haha. Ok, back to the food. Fish head noodles served here looks somehow like the one at Kuchai Lama. It uses the super thick mee hoon. They called it "lai fun" if I'm not wrong. The fish head noodle's soup is not that fragrant, we only tasted milk. It doesn't really come with a lot of fish head, that's because they've added fishballs and fu zuk to fill up the pot.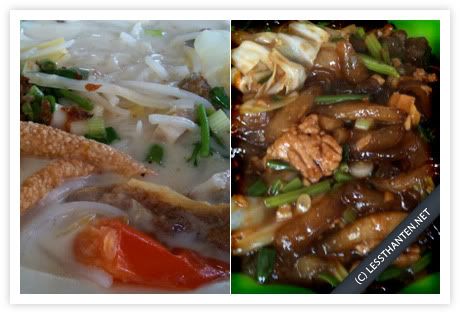 Apart from fish head noodles, there's other dishes such as fried starchy  noodle, fried "pak kor" and other fried stuffs such as fish cake, fu zuk and etc. We find that their side dishes tasted so much better if compared to the main dish. The other two plates of fried noodles that we've ordered tasted rather bland too.
Environment wise, this place is kind of hot during the afternoon. The stall is set up with zinc roof which provides a lot of heat. Crowd wise, all tables are almost filled up. It makes us wonder, why do they have so many patrons in this deserted stall where the food tastes only so-so? You might wanna head over here to try out the food, you might find it to your liking. But its definitely not to ours as we said to ourselves that this is only a once in a lifetime experience. :p
fish head noodle @ jalan ipoh
location: jalan mangga, off jalan ipoh (behind HSBC)
food: fish head noodle (pot) – RM20, stir fried "pak kor" – RM8, stir fried "xu fan" – RM8, deep fried fish cake and loh bak – RM14
---
---
PP and I saw this new shop at Mid Valley at one fine day. We're there doing our usual weekend grocery shopping and movie session. Feeling hungry, we've decided to give this shop a try.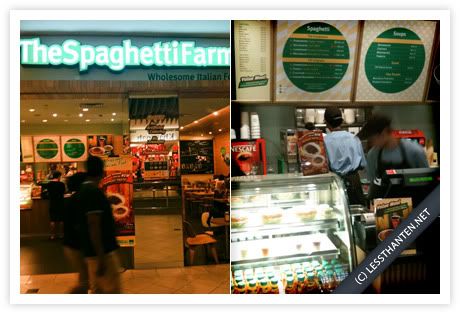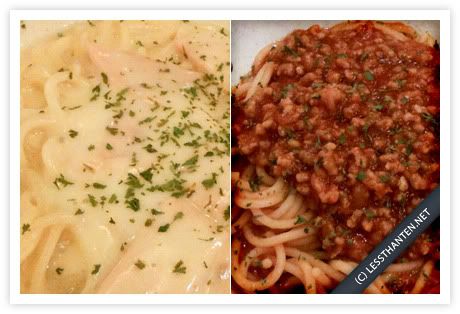 We've ordered a plate of spaghetti bolognese and carbonara. This is the worst spaghetti that we've ever had!! Gosh, every plate served was bland and lack of ingredients. Its purely spaghetti noodles and sauce with some ham or minced meat. We even had to top it up with lots of cheese powder and tabasco sauce.
I think this shop is a no no! With that amount of price that you're paying, you might as well as cook it yourself. You know where's the best spaghetti that I've ever had? Its the one that PP made, and nobody tried that except for me. Yum, thanks gong.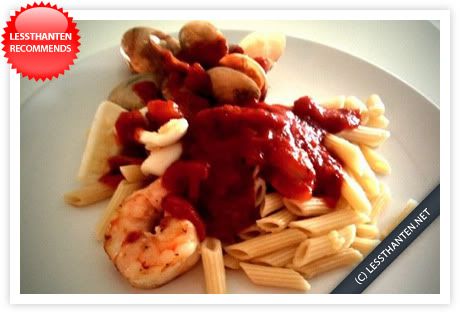 the spaghetti farm @ mid valley
location: mid valley megamall, kl
food: spaghetti bolognese – RM 8.80, spaghetti carbonara – RM9.80
---