---
Artzmania is an independent venture showcasing outstanding international creativity and culture. With blazing passion for design, it is the latest platform for Designer's Territory to inspire, express and share with fellow art enthusiast profiling diversified design.
Founded in January 2007 by a team of arts and graphic enthusiasts in Malaysia and exclusively supported by Spotbit.com, Artzmania.com was officially launched in January 2007.
This super e-zine has attracted international designers in their quest to showcase their superb creativity through design and arts and is distributed on world-wide platform for all walks of life to enjoy. It is widely recognized as one of the most successful free e-zine in the web.
Source: Artzmania
---
---
This post is contributed by PP…..
So far, i am buying 3 photography magazines monthly, popular photography via yearly subsciption, practical photography from book store and the local version of Digital Camera Magazine.
Before the local version of DCM, once in a while, I buy the UK version which cost a bomb compare to local version. Therefore, I am pleased today because I found a copy of Digital Photography Magazine, Malaysian version at only RM9. This local version almost similar copy with the UK version which cost RM32.50. They have almost the same tips, with plenty of professional photographers articles and it include with our Malaysian content. looks like they are taking 80% of UK content and 20% of local content.
They have a lot of camera tips, latest gadgets (Poisons), how to enhance your photos with Adobe Photoshop, tricks and tips. The magazine also come with free tutorials, filters and Photoshop lessons.
So go to your nearest book store and grab 1 copy. 1 thing to take note, Usually the current issue cover page will be the same with the past issue of UK version, so make sure you are grabbing the local version which only cost you RM9.
---
---
This magazine is edited for anyone interested in photography and offers illustrated, incisive instructional articles. Its departments cover all facets of photography from color film use and development to large format equipment. In addition, it contains information about collecting photographic equipment and news from the international photography world. It also answers readers' questions and offers buying advice.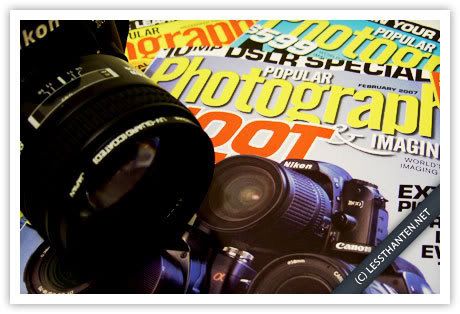 PP have subscribed to Popular Photography for about 2 years. He intends to continue with the subscription because Pop Photo is a good general purpose photography magazine. The coverage of new trends and products is good. Same goes with the technical reviews of equipment. It also has good travel photo column, and the readers photos segment is the first thing he would look for in every issue. It also offers Photoshop tutorial as well. In summary, Pop Photo has a wide audience and a lot of potential.
Website: http://www.popphoto.com/
Price: 12 Issues (1 year) @ $14.00 , for international subscription, add $8 per year. Total = $22 (RM80 per year, RM6.7 per issue)
---