---
Penang Recipe located at 1Utama serves one of the best Penang food in the shopping mall. This restaurant is located at the old wing, at the corner of 3rd floor where the old and new wing is connected. Its located in a open area, with very green decoration which won't impress you much. You'll be surprised, really, with the food they serve and the price you pay with.
For the first time trying out at this restaurant, PP and I have decided to order our 'safe dish'. Defining 'safe dish'; hmm.. its the general type of meal that we will order that helps us set the standard of a restaurant. Well for example, if we're at a chinese restaurant, our safe dish would be their sweet and sour pork and a vegetable. If at a Penang restaurant, safe dishes will be Char Kuey Teow, Curry Noodle and Assam Laksa.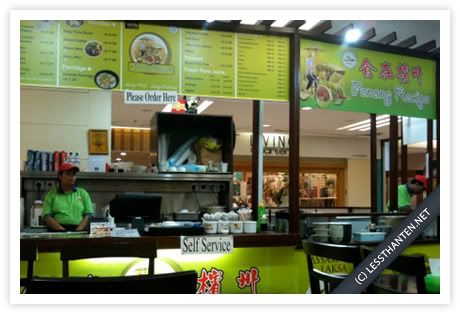 So, we had a bowl of curry noodle and assam laksa. Their version of asam laksa tastes very similar to the one at Jusco Mid Valley. Its sourish and you'll need more than a saucer of the black prawn paste to make it slightly sweeter. The assam soup however is very thick and strong with flavor. This bowl of assam laksa also have loads of fish meat in it.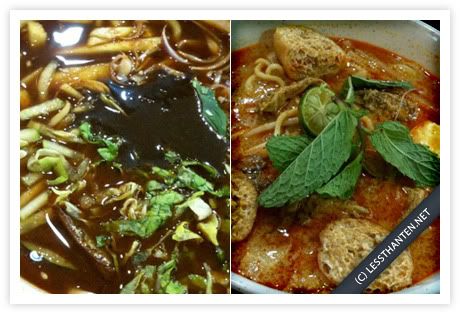 As per the curry noodles, it comes with dry bean curd, chunks of chicken meat, slices of fish paste and mint leaves. This is not the usual penang curry noodle. I would say that it resembles more like a Nyonya style. Both type suits us well. Needless to say, they're not stingy at all with the ingredients for this bowl of noodle. Taste wise, the gravy is thick and rich in curry flavor.
penang recipe @ 1Utama
location: F66, 1st Floor, 1Utama
contact: 016 – 217 7496
business hour: opens daily from 10.00am – 10.30pm
food: curry noodles – RM7.90, assam laksa – RM6.90
---