---
I would say that most of the Friday's lunch is a fish head noodle meal. We've tried those at Damansara Kim, at Kuchai Lama and even Jalan Ipoh. Our favorite so far is the one at Kuchai Lama. I will introduce it in one of the future posts.
Distance from office to all these eatery places are about the same. Jalan Ipoh is a very busy street, especially during lunch time. Traffic is havoc. This fish head noodle place is located at a certain corner of Jalan Ipoh, which I do not know how to describe. What's most distinguish is that, a chinese temple is located opposite this stall. Behind this stall, there's a classic chinese garden decorated with a pavillion.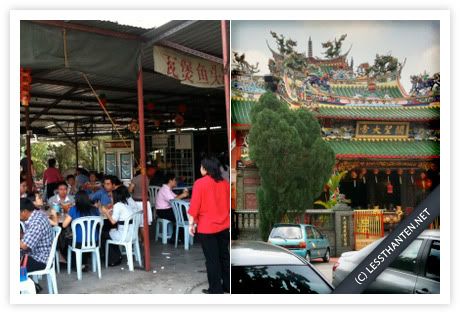 Its like back to the very olden days, something like "Journey To the West" kind of scenery. I suppose what's missing is the monkey, pig & monk. Haha. Ok, back to the food. Fish head noodles served here looks somehow like the one at Kuchai Lama. It uses the super thick mee hoon. They called it "lai fun" if I'm not wrong. The fish head noodle's soup is not that fragrant, we only tasted milk. It doesn't really come with a lot of fish head, that's because they've added fishballs and fu zuk to fill up the pot.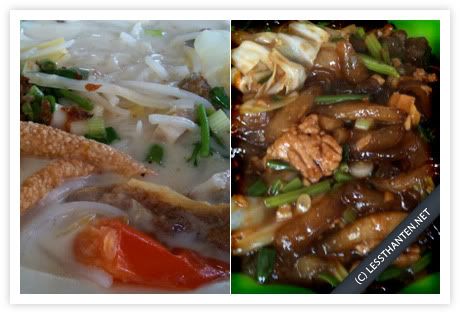 Apart from fish head noodles, there's other dishes such as fried starchy  noodle, fried "pak kor" and other fried stuffs such as fish cake, fu zuk and etc. We find that their side dishes tasted so much better if compared to the main dish. The other two plates of fried noodles that we've ordered tasted rather bland too.
Environment wise, this place is kind of hot during the afternoon. The stall is set up with zinc roof which provides a lot of heat. Crowd wise, all tables are almost filled up. It makes us wonder, why do they have so many patrons in this deserted stall where the food tastes only so-so? You might wanna head over here to try out the food, you might find it to your liking. But its definitely not to ours as we said to ourselves that this is only a once in a lifetime experience. :p
fish head noodle @ jalan ipoh
location: jalan mangga, off jalan ipoh (behind HSBC)
food: fish head noodle (pot) – RM20, stir fried "pak kor" – RM8, stir fried "xu fan" – RM8, deep fried fish cake and loh bak – RM14
---
One Response to "fish head noodle @ jalan ipoh"
Huey
September 1st, 2010 - 9:20 am

I've been to this place too (when I was still working in the golden triangle area)! Think the food served were ok. Maybe you'll want to try out the fish head noodle at Jalan Alor. Think that one is nicer.
Leave a Reply