---
If you have read our previous post about PJ New Town Wan Tan Mee, you will know we are craving for those red sauce wan tan mee that usually only available in Johor or Singapore. Thanks to TakWee who recommended us there are 2 shops that selling red sauce wan tan mee in Kota Kemuning and Subang Jaya SS15.
Today, we went to try the Pontian Noodles which located in Kota Kemuning. This is the first branch of Pontian Noodles in Klang Valley. Their original shop in Pontian established since 1948, over 50 years now.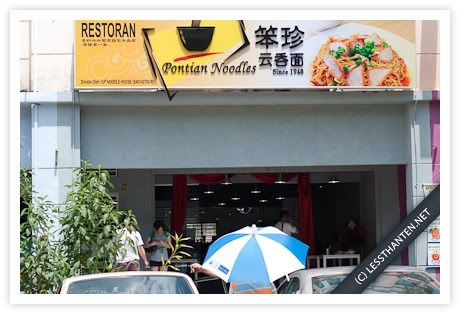 This place only took us 15 mins from Kelana Jaya to Kota Kemuning. Thanks to the new fly over that link Subang Airport road to USJ. Then turn right into Kesas Highway before Submit Shopping mall. Once you exit Kesas and enter to Kota Kemuning, go straight and enter into 3rd turning from the rotary. Turn right at the 1st right junction, then you will see a McDonalds on your right. Turn left at the 1st junction and Pappa Rich is on your right then go straight and Pontian Noodles is just on your left.
We ordered 3 types of wan tan mee, tomato sauce, chilli sauce and chillis + black sauce. Personally, I preferred the tomato sauce pontian noodles because the taste is the closest to the Singapore and Pontian style red sauce wan tan mee.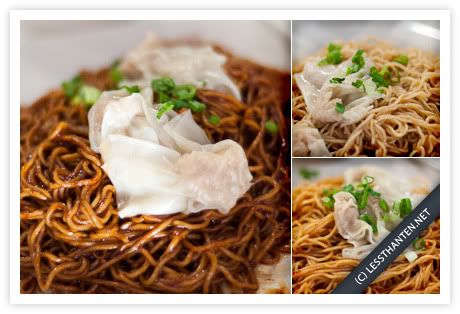 In term of noodles, it taste quite nice because the noodle is not too soft or too hard, it just nice to us. Then the sauce are rich in favor. The tomato sauce one is a bit sweet and sour which we like the most compare to chilli sauce and black sauce one. On the other hand, the wan tan is not too big, we really don't like the wan tan with too much of filling and big like ping pong. Their wan tan is just nice in small size with lean pork inside. Yummy!
However, 2 things i think they should improve further:
1. The BBQ pork is missing and i think this is quite important for wan tan mee.
2. They can put some vegetables and serve with noodles to make the meal more balance.
Overall, they are serving tasty and yummy red sauce wan tan mee and sure we will go back again.
Update on 31 May 2010:
I went back yesterday and their Wan Tan Mee got Char Siew now. In fact, their Char Siew quality is quite good!
Also they will be serving deep fried wan tan soon.
restoran pontian noodles (since 1948) @ kota kemuning
location: 36, Jalan Anggerik Vanilla M 31/M, Kota Kemuning, 40460 Shah Alam, Selangor.
gps: +3° 0′ 13.25″, +101° 32′ 21.12″
business hours: Daily from 9am to 3pm
food: Tomato Sauce – RM5, Chilli Sauce – RM5, Chilli + Black Sauce – RM5
---
21 Responses to "restoran pontian noodles (since 1948) @ kota kemuning"
Leave a Reply