---
The RT Pastry is located at SS15, Subang Jaya. This shop is not noticable at all, because it looks like any ordinary hometown bakery shop. Surprisingly, it is actually a Japanese bakery shop. The breads in this shop are all very fancy.
PP's colleague also recommended him a type of bread from here. Its a multi-grain bread, very compact with nuts and grains and also raisin. He asked a colleague to buy and brought it back for me to try out. It is very nice and filling.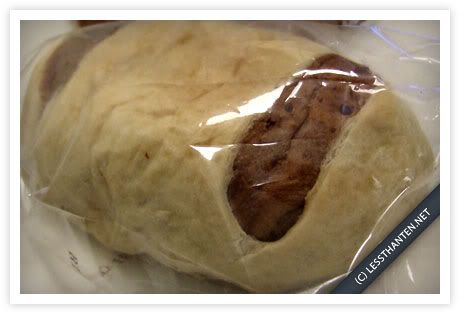 I went there again today, wanted to find a japanese bread that PP's colleague from Singapore gave him. The bread that his colleague gave was a chocolate layered bread, rolled up in a croissant shape. The bread is so soft and rich in chocolate flavor. I'm so addicted to it! Hence, I was hoping to find the same thing at this Japanese bakery shop too. At last, found it, but this shop's version is not as good. I suppose this is not their specialty.
Also, we've bought a slice of their their orange layered cake, yam tart and the multi-grain bread again. And so it happen, this is their anniversary day. We've got a 28% discount from the total ammount of purchase. I'm very curious at their soft japanese cheese cake. I think I'll get a slice of it the next time and review on it.
food: multi-grain bread – RM5, chocolate layered bread – RM3, orange layered cake – RM4, yam tart – RM2.80
rt pastry (subang jaya)
location: next to cake sense, ss15, subang jaya
contact: +603 5621 6758
rt pastry (taman danau desa)
contact: +603 7981 9106
---