---
Notice that I've been posting again? Hehehe.. I feel real bad … PP's been very hardworking and helping me do post for the past very very busy months. Thanks, gong ! So… I'm still busy, but I will make some time for this blog.
This time round, I'm gonna help PP introduce his braised bittergourd with pork ribs. Here's the recipe and some simple steps to prepare the dish.
Braised Bittergourd with Pork Ribs by philipcs
Ingredients :
2 pcs bittergourd (medium size)
pork ribs
spicy fermented beans (can use the non spicy ones for those who wants it mild)
sugar and salt to taste
cooking oil
Directions :
Heat up the pan with a little bit of cooking oil, then add in the fermented beans to fry.

Next, you will need to add in the pork ribs and some water into the pan with fermented beans. Fry the pork ribs for about half an hour.  Add in more water after that, you will need to braise it with the bittergourd later on.

In another pot, boil water with a dash of oil and salt in it. Add in the bittergourd which is cut into cubes to the boiling water.  Boil for about 15 minutes and let the water rinse away.

Finally, add the bittergourd to the pan of pork ribs and fry until it becomes medium dry. Add more water to braise it for another half an hour and you ready to serve it.
Thanks to PP for this delicious meal.
This is just nice for our lunch and dinner. You can serve it with rice or even noodles.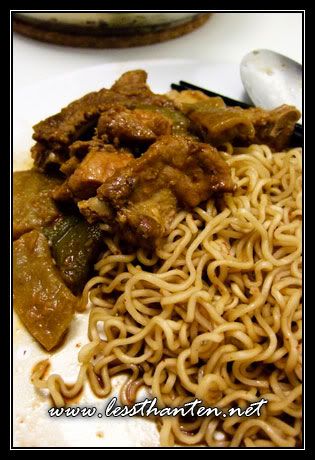 ---
One Response to "braised bittergourd with pork ribs"
angel
January 13th, 2011 - 11:06 pm

Would like to ask.. roughly how much of pork ribs to buy.. and how much fermented beans to use in this recipe? The bittergourd must be "young" ? And how much salt to use to boil the bittergourd?

This recipe looks interesting but i need more details as this is my first time..
Thank you!
Leave a Reply