---
This is one of our favourite spot during the old college times and also during those days when we're still staying at sunway. The patrons here are usually college students from Taylors or INTI. This restaurant is located at the row of shophouses opposite Taylor's College. Its right next to 7-Eleven.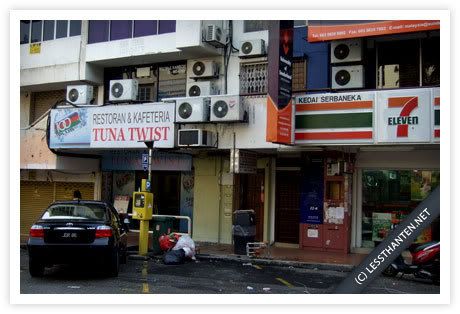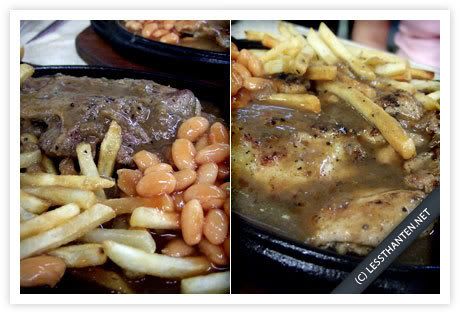 They serves all types of food, ranging from western such as chicken / lamb chop to local deli such as nasi lemak, fried rice and etc. They also have those convenient packed sandwiches for those small eaters.Our favourite from this shop is their western sizzling chop.
PP ordered a Sizzling Lamb Chop while I ordered a Sizzling Chicken Chop. Both our dishes comes with a soft bun, french fries and baked beans. Food portion wise is huge and worth it. Come on over to try it out.
Tuna Twist Subang Jaya
Location: Opposite Subang Jaya Taylor's College, next to 7-Eleven
Food: Sizzling Lamb Chop – RM9.50 (free cordial drink), Sizzling Chicken Chop – RM8.50 (free cordial drink)
---
3 Responses to "tuna twist at subang jaya"
myCoffee
October 10th, 2007 - 2:24 pm

Wow, this is really a trip down memory lane. This place was like the de facto hangout place during my college days then. Ya, my fave was their sizzling chops and nasi lemak too.

Catherine
December 30th, 2008 - 4:28 pm

Does the shop open during lunch hour?
Tried searching in Yellow Pages but couldnt find.

Yau
December 31st, 2008 - 10:28 am

Yes, its opened during lunch hour. Main purpose is for the Taylors and Inti students there.
Leave a Reply