---
Lens brought us to this place at Damansara Kim to try out its fish head noodles. We're very curious because he keep telling us that its very delicious. This stall is actually named as SS20 Fish Head Noodle. This stall is located exactly at the Medan Selera MBPJ, Damansara Kim.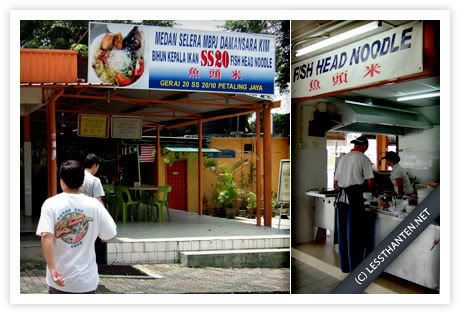 To get there, if you find the Damansara Specialist Hospital on your right, just go along the one way street for about 150m till you see a row of shop on your right & the medan on your left. It's on the inside part of the medan with tables under the trees.
Lens, Eekin and I ordered a bowl of sliced fish meat noodle each. Lens noddle is without milk. PP instead, ordered the usual fish head noodle, with milk. The portion is huge and it comes with a lot of fish slices / fish head. The soup tastes good, more on the salty side. Fish instead, is very fresh and its cooked until just nice.
There's kinds of combination that you can order with you noodle. You can order the soup with milk or no milk, fish meat which is non-fried or fried. We actually prefered the noodle with milk and mix with fried and non-fried meat. There are other ala-carte dishes that you can order from. Take a look at their menu, and you'll find varieties to choose from.
Other than their food, we find that they serve very nice drinks too. The best is still the soya with cincau. It was too good until we ordered extra 3 glasses. What makes it so nice, hehe its the gula melaka they put in the drink. Wow, the coconut fragrance just makes the drink better!
SS20 Fish Head Noodle @ Medan Selera MBPJ Damansara Kim
Location: Gerai 20, SS20/10 Petaling Jaya.
Map: Location Map1 / Location Map2
Business Hours: Monday to Saturday 10am to 4pm / PH and Sunday 10am to 3pm
Food Price:
Soong Fish Head Mee Hoon –

RM6

Haruan Slice Mear Mee Hoon –

RM8

Fish Paste Mee Hoon –

RM6

Mamak Cendol –

RM1.80

Soya Bean Milk with Cincau –

RM1.80
---
4 Responses to "ss20 fish head noodle at damansara kim"
Leave a Reply