---
Mukhtar, the owner of the Breakfast Bar, is known by everyone all round Cenang. He is a great person and not at all untypical of restaurant owners in Langkawi. They don't just own the business and handle the profits but are actively involved in the day-to-day running of the place and take time to sit with and talk to the customers. Also, he is a teh tarik master. You must taste his teh tarik.. hmmmm.
Breakfast Bar is a cheap-and-delicious breakfast bar in Pantai Cenang. A must-go! Its one of our favourite breakfast place at Langkawi. This great eating place is nicely decorated with a tropical garden setting. You will love the gazebo-like structure and the green surrounding. It has beautiful ocean views too. The specialties are Western and Malaysian breakfasts. Ooh.. you can get some yummy and fresh baguettes here too.
Our american breakfast set comes with 2 slices of toast bread with butter and jam, scrambled egg, and coffee. Mukhtar's special omelette comes with mushroom, onion, turkey ham, tomato and potato. We've also ordered extra 2 slices of toasts with butter and jam and a banana pancake. Breakfast Bar is a decent eatery with great choices and most importantly, affordable.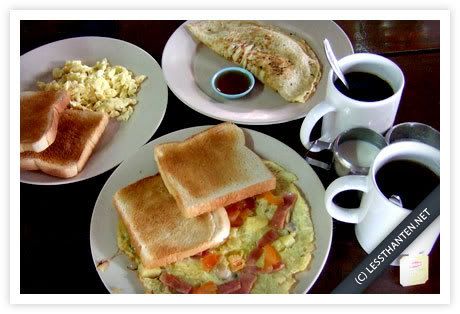 Breakfast Bar
Location: Pantai Cenang, Langkawi
Contact: +604 955 6533
Business Hours: 7am to 2.30pm
Food: american breakfast set – RM6.50, mukhtar's special omelette – RM6.50, 2 toasts with butter and jam – RM2.50, banana pancake with butter and syrup – RM3.00
---